Aber richtig komfortabel wird es, wenn man ein Taxi nehmen kann. Gefahren vom Spammer. Direkt an die Wand. 🚗️💥️
Und teuer. 💸️
💡 Heute ist der perfekte Tag, um dir zu schreiben. Ich hoffe, dir geht es gut.
https://bit.ly/3cpY80k
Für einen Spammer ist jeder Tag ein perfekter Tag, um zu spammen. Deshalb heißt dieses Blog auch "Unser täglich Spam". Aber der Honk will mir ja auch gar nichts mitteilen, sondern mir einen giftigen Link unterjubeln, ohne mir auch nur anzudeuten, um was zum hackenden Henker es dort geht. 🖱️
Na, wo geht die Reise hin?

$ location-cascade https://bit.ly/3cpY80k
     1	http://ygrj.jointroof.link/index
     2	http://de.gewinncode.zulole28.vip/07gw
     3	http://de.gewinncode.zulole28.vip/?session=4950231e599b4fae98dacb794394ac92&aff_id=225&fpp=1
$ _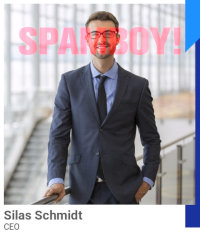 Aha, es geht um den Bitcoin-Beschiss mit dem dümmlichen Namen "Gewinncode", der verspricht, jede gut dressierte Laborratte mit ein paar völlig einfachen Klicks reich zu machen, indem ein Computerprogramm auf die Kursentwicklung wettet. Natürlich funktioniert das nicht. 👎️
Natürlich wird der Spammer nicht mit seiner eigenen Methode reich, sondern kassiert lieber Affiliate-Geld von halbseidenen Bitcoin-Dienstleistern dafür, dass er ihnen neue Kunden zutreibt. Der Spammer weiß genau, dass das Geld nicht aus der Steckdose kommt. 🔌️💰️
An einem Markt oder an einer Börse (die ein Markt ist) entsteht das Geld nicht, sondern es wird umverteilt. Nach Handelsschluss ist die gleiche Menge Geld vorhanden, es gehört nur teilweise anderen Leuten als vorher. Einige haben weniger, einige haben mehr, und madenhafte Dienstleister, die sich ihren Dienst bezahlen lassen, haben auf jeden Fall mehr und sind deshalb froh über jede sinnlose Transaktion, an der sie mitkassieren, weil sie dann noch mehr haben. Dafür wetten sie aber auch nicht an der Börse, sondern zocken ab. 💸️
Sie zocken so sehr ab, dass es sich für sie lohnt, Affiliates zu haben, die ihnen für eine Handvoll Judasgroschen neue Kunden zutreiben. Solche Affiliates wie der Herr Gewinncode, der sich übrigens immer noch Silas Schmidt nennt. Der hat einfach eine lustige Website gemacht, auf das Blaue vom Himmel herunter versprochen wird. Da muss dann noch ein Video rein, weil der Ganove Silas ganz genau weiß, dass seine "Zielgruppe" teilweise so ungebildet ist, dass sie nicht so gut lesen kann. Aber Silas hat gar keine Lust, ein neues Video zu machen? Das ist ihm zu viel Mühe für das Geld, das er naiven Menschen aus der Tasche zieht? Macht nichts, Silas hat ja noch von einer seiner alten Reichwerdmethoden ein Video rumliegen, und deshalb hat der "Gewinncode" das völlig unveränderte Video des früheren Reichwerdschwindels "Crypto Code". Einschließlich des damaligen Logos in der Ecke. 🤦‍♂️️
Und wie man am Parameter aff_id in der Auflösung des gespammten Links sieht, ist dem Gewinncode-Betrüger inzwischen sogar das Spammen zu viel Mühe (denn wenn er sich Mühe geben wollte, könnte er ja auch gleich arbeiten gehen). Deshalb gibt er seinerseits Spammern Affiliate-Geld dafür, wenn sie ihm ein neues Opfer zutreiben. Spammern wie diesem angeblichen…
Clemens Bender
…Clemens Blender… ähm… Bender, der mich heute nicht zum ersten, zweiten oder dritten Mal mit diesen Müll vollmüllt, sondern immer wieder einmal im Glibbersieb meines Spamfilters herumliegt. Clemens…
1/31/2021 3:16:03 PM
…hat zwar einen Kalender und eine Uhr, aber leider keinen Anstand und gerade genug Gehirn, dass sein Kadaver ein bisschen gierig vor sich hin zucken kann, und deshalb ist er Spammer geworden. In der vierten Liga der Spam, wo man Affiliate-Geld dafür bekommt, dass man Betrügern, die ihrerseits von Affiliate-Geld leben, neue Opfer zutreibt. Fürwahr, ein echter Sieger! Der kennt sich ganz sicher mit Reichwerden aus! 🏆️
Möge dieses dumme Arschloch möglichst qualvoll und einsam sterben, aber bitte ein bisschen schneller! ⚰️
Clemens hat übrigens gemerkt, dass seine Spams durch keine Spamfilter mehr kommen, und deshalb hat Clemens jetzt auch "Inhalte" in seine Spam gemacht. Solche "Inhalte":
Book excerpt: "How to Prepare for Climate Change" by David Pogue
The science and technology writer and "CBS Sunday Morning" correspondent offers advice on how individuals can adapt to a quickly-changing planet.
A Black Dietitian Wants To Close The Nutrition Gap
NPR's Michel Martin speaks with registered dietician Vanessa Rissetto about the lack of diversity in dietetics and how that can impact health outcomes for communities of color.
Order and Chaos, Mostly Chaos, in 3 Debut Novels
New fiction starring a 7-year-old selling hardware, a disgraced queer playwright, and an unlikely throuple expecting a child.
Covid-19 vaccines: Is it OK to get a leftover jab?
As vaccines are rolled out, questions have been raised about how spares should be allocated.
The mystery of the 60-year-old travel photos
Jennifer Skupin bought a box of slides at an Amsterdam flea market in 2008. Now she's trying to track down the story behind the photos.
The backstory to UK's vaccine supply – and Matt Hancock's crucial move to reject one contract that landed on his desk
As the row over vaccine supplies heated up this week, the UK government stuck to a simple line.
Oh…The Archer: Over 40,000 Netizens Follow UK Robin Hood Society, Confusing It With Stock Market App
An account on Twitter dedicated to a character of English folklore who robbed the rich in order to give their money to the poor previously had fewer than 400 followers. The owner of the account recently tweeted that it had exceeded the daily limit for new followers.
Iconic actress Cicely Tyson remembered
Legendary actress Cicely Tyson has died at the age of 96. Gayle King looks back at her decades-long career and her legacy as an African American icon. How Fox News Is Adapting To The Biden Era
Fox News is doubling down on its opinion shows and firing or sidelining some journalists as it adjusts to the Biden era. NPR discusses what these moves might tell about what Fox is trying to achieve.
House Hunting in Canada: Octagonal Riverfront Views Outside Ottawa
After lagging behind larger Canadian cities for years, Ottawa saw home prices balloon in 2020, fueled by a surge in demand and 'inventory at historic lows.'
Covid-19: Cough, fatigue, sore throat 'more common' with new variant
But loss of taste and smell may be less likely to affect those with the new strain, a study suggests.
Naomi Osaka on raising awareness for racial injustice with her masks
2020 US Open champion Naomi Osaka talks about her push for further awareness of the names of victims she wore on her masks, the journey to the title and using her voice moving forward.
Double murder suspect duck hunter found dead at same lake where alleged victims were killed
The body of man suspected of shooting dead two fellow duck hunters has been found at the same lake where his alleged victims were killed.
TikTok Video of 'Psaki Morphing Into Zuckerberg' Leaves Netizens in Stitches
While some social media users joked about the alleged resemblance between the social media mogul and the Biden's press secretary, others were less forgiving.
Ein gar wunderbares Spiegelbild der Intelligenz des Absenders! 😡️